Roederer, Louis: Cristal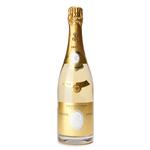 "The newly born Cristal 2008 comes to us with a patient heart, full of promise. It has been shaped by time and by its unique chalky soils and is now ready for us to enjoy after ten years of ageing. The 2008 vintage was a continental year, intense and hot, with scorching temperatures and weather which was a nimble succession of sunny and cool spells. Cristal 2008 is the embodiment of this concentration, intensity, energy and complexity.

Cristal has a restrained strength and a pervasive purity, like a lithe ballerina's impossibly graceful leap through the air... A fine balance of finesse and power, energy and sensuality, Cristal captures all differences, reconciles all contrasts. Borne by its delicate substance, its notes of white fruit, candied citrus and toasted almonds harmoniously combine to create an endless parade of nuances. This is a cleverly seductive wine!"
---
SHOW MORE

HIDE

DETAILS