Margaux, Margaux
Representative blend: 75% Cabernet Sauvignon, 20% Merlot, 5% Petit Verdot and Cabernet Franc
Annual production: 29,000 cases of Grand Vin and Pavillon Rouge (the second label) and around 3000 cases of Pavillon Blanc, a 100% Sauvignon Blanc
One of the most hallowed names in wine, Margaux has an allure to it which has proved irresistible to drinkers for centuries. Sited on arguably the most perfect terroir for Cabernet Sauvignon in Bordeaux, the sheer first growth nobility of the property comes across on the nose every time: a perfume of stunning complexity and beauty. The neo-classical building, perhaps the ulimate image of Bordeaux to outsiders, also helps the cause. But ultimately, this is wine lovers` wine, exemplary year by year and just more beautiful with age. Under winemaker Paul Pontallier and the ownership of the Mentzelopoulos family since the late 1970s, the property has gone from strength to strength.
---
SHOW MORE

HIDE

DETAILS
Mouton Rothschild, Pauillac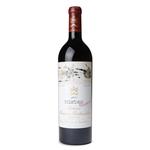 Label artist: Giuseppe Penone
Representative blend: 85% Cabernet Sauvignon, 8% Merlot, 7% Cabernet Franc
Annual production: 17,000 cases and 3,000 cases of the second wine, Petit Mouton. There is also a small amount of white produced: Aile d`Argent.
The only wine ever to have moved up the 1855 classification - from second to first growth in 1973 - `Mouton`, as it is universally known, is a profoundly unique wine in Bordeaux. While the vineyards lie adjacent to those of Lafite, the wine could scarcely be more different. Mouton has a unique nose of spice, cedarwood and cassis and always has greater weight than Lafite. Since the Second World War, Mouton`s singularity has only been enhanced by its artists labels - a different artist for each vintage. This makes it a particular favourite of collectors.
---
SHOW MORE

HIDE

DETAILS
Yquem, Sauternes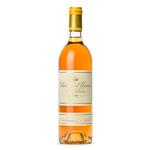 Serena Sutcliffe, MW:
"Less extravagant than 1989 in character. Nose of crystallised grapefuit. Great elegance, balance and finesse. Glorious lemony, silky taste. Heavenly filigree flavour and persistence. Another bottle had great tangerines on the nose with glorious honey, cloves, tangerines and nuts on the palate. This is a classic and much beloved of Comte Alexandre de Lur Saluces. SS." 10/07
"The harvest finished on 25 November, with fantastic weather and no rain. An almost Madeira-like bouquet with a whiff of Sercial. Pure zests of oranges and lemons as well as bread and butter pudding with cloves. Sweet candied mandarin oranges. So vivacious at the end. Classic, multi-dimensional Yquem. SS." 4/08
---
SHOW MORE

HIDE

DETAILS
Yquem, Sauternes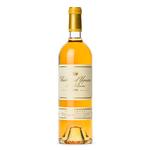 Serena Sutcliffe, MW:
"Very scented, concentrated and heady on the nose. Glorious creamy rich texture combined with great elegance and length, reminiscent of 1986/1988. Another bottle had a great peachy bouquet. Incredibly unctuous, guava richness on the palate. A hugely original Yquem, with stunning fresh acidity. In 2007, an Imperial was absolutely show-stopping, perfect, icy beauty that was truly awe-inspiring and incredibly creamy. I could not get enough of it. All this was reconfirmed in 2010." 10/10
---
SHOW MORE

HIDE

DETAILS