Sotheby's Champagne: Blanc de Blancs, Grand Cru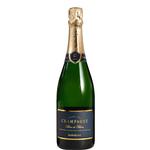 GRAND CRU
Our Own Label Non-Vintage Champagne is made from 100% Grand Cru Chardonnay (no Pinot Noir nor Pinot Meunier), coming from 21 hectares of Grand Cru vineyards in Chouilly.

TASTE
This is light, fresh, elegant, but serious. It is very versatile and suitable for any occasion – the sort of Champagne that you can drink all night! The quality is first rate and it offers excellent value for money – each time we taste it, which has been very frequently, we are surprised how terrific it is.

R&L LEGRAS
We have been long time admirers of R&L Legras, which was founded in 1808, and we have been selling their own label as our house champagne exclusively in the US for the last few years. We are delighted that Julien Barbier, 6th generation vineyard owner, who has been running this champagne house since 2007, agreed to make the Sotheby's Champagne and we will continue to offer his label, alongside our own.

SERVED AT SOTHEBY'S WORLDWIDE
Sotheby's Champagne will now be served at most Sotheby's events in our three most important selling locations: New York, London and Hong Kong.
---
SHOW MORE

HIDE

DETAILS